Metropolitan Theatres Promotions and Special Events
Our promotions and special events are updated regularly, so please check back often.
Scroll Down for promotions & offers.
Transformers: Rise of the Beasts
Collectors Print Promotion
TRANSFORMERS: RISE OF THE BEASTS coming Friday, 6/9!
Beginning Saturday, 6/10: The first 100 TRANSFORMERS: RISE OF THE BEASTS ticketholders will receive a collector's print at participating theatres while supplies last.
Grads & Dads Bonus Buy Offer
Get $10 Free. Must Select $60 Option.
CELEBRATE GRADS & DADS GIFT CARD PROMOTION
BONUS BUY OFFER: Get $10 FREE!  Receive a $60 Gift Card for only $50*.
*Offer valid through June 18, 2023. 
*For offer to apply, you MUST select the $60 gift card denomination from drop down denominations at purchase. 
*The Price reduction will appear at check-out on the payment provider section in STEP 4.   
Metro Summer Kids Movies
Family Movie Fun All Summer Long!
June 13 - August 10
Movie titles coming soon.
Participating Theatres:
MetroLux 12 Theatres + IMAX @ Centerra: Tuesdays & Thursdays at 10am
MetroLux Dine-In Theatres at the Foundry in Downtown Loveland: Wednesdays at 2pm
MetroLux Theatres @ Outlets at San Clemente: Tuesdays, Wednesdays & Thursdays at 10am
Fiesta 5 Theatre: Wednesdays at 10am
Camino Real Cinemas: Thursdays at 10am
Redstone Cinemas: Wednesdays at 10am
Wildhorse Cinemas: Wednesdays at 10am
Cost:
$2 all seats & no booking fee.
$10 Kids Package available for MetroLux Dine-In Theatres in Downtown Loveland, CO only. Available for purchase at the Box Office only: Includes ticket & lunch
Private Rentals Available each week: Perfect for Camp Groups!
Metro Summer Kids Movies Private Rentals are available on the scheduled film date only and for select early showtimes only. To inquire about booking a Metro Summer Kids Movies Private Rental, CLICK HERE!  Camps welcome!!
Bargain Tuesday
Save on Tickets & Concessions!
Every Tuesday is Bargain Tuesday! 
Enjoy lower priced tickets.
And, get a Bargain Tuesday Combo of a small popcorn & small soda for $6!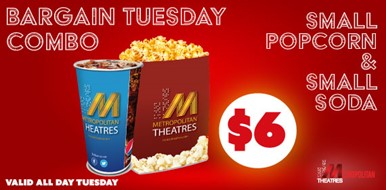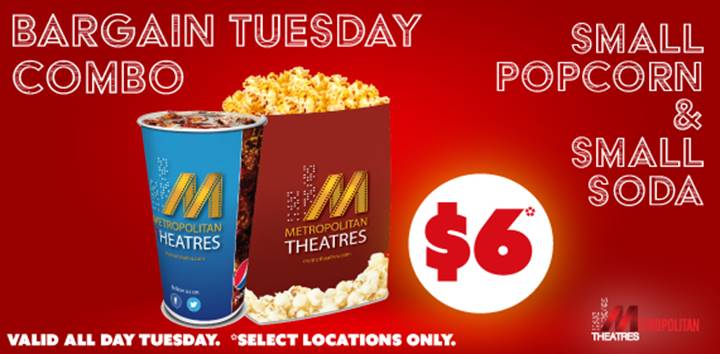 Bargain Tuesday Combo
Bargain Tuesday just got better!
Enjoy a small popcorn & small soda combo for just $6!
Please note: Combo size varies at MetroLux Dine-In Theatres in Downtown Loveland, CO and MetroLux 12 Theatres + IMAX @ Centerra in Loveland, CO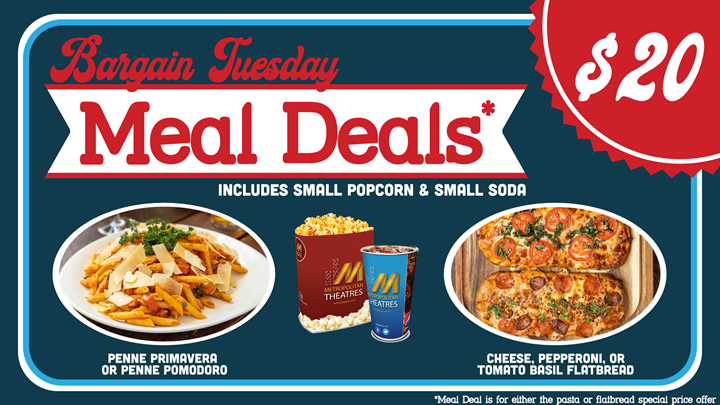 Bargain Tuesday Meal Deals
@ MetroLux Theatres San Clemente
Enjoy our Special Bargain Tuesday Meal Deals at MetroLux Theatres San Clemente!

For Just $20, get a select main, a small popcorn and a small fountain drink combo:
For mains, choose one item from either the flatbreads or pastas:
Cheese, Pepperoni or Tomato Basil Flatbread or
Penne Primavera or Penne Pomodoro 

This offer is exclusive to MetroLux Theatres @ San Clemente
OFFERS, PROMOTIONS & NEWS
<<< DRAG, SCROLL AND CLICK TO SEE MORE PROMOTIONS >>>